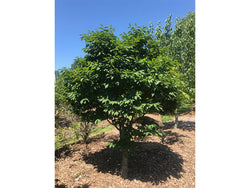 Cricket Hill Garden
Zelkova serrata, 'Goblin' Dwarf Japanese Zelkova
Variety description: 'Goblin' is a small and compact selection of Japanese zelkova. This hardy dwarf is great for small gardens as it will reach 4' tall by 3' wide in 15 years. Fall colors are bright yellows to orange.
Height and Spread at Maturity: 4-5' tall with a open, fan shaped crown
Site requirements: Full sun location. Will grow in a range of soil types provided the planting location is well drained. 
Hardiness: USDA zones 5-9.

Plant size: Grafted tree, 12-24" with strong central leader.

When we ship: SPRING 2023 shipping.