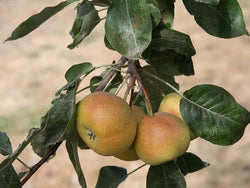 Cricket Hill Garden
Sorbopyrus, 'Shipova' ancient pear hybrid
x Sorbopyrus auricularis

Variety description: This antique hybrid of a pear and European White Beam originated in Europe several hundred years ago. In the late summer, 'Shipova' bears round, yellow-orange seedless fruit, about the size of a large apricot. Dense, buttery flesh of this fruit resembles that of an excellent European pear. Downy silver green leaves make for interesting foliage in the landscape, as does the pyramidal growth habit of the Shipova. Shipova is self-fertile and does not require an additional pollinator tree.

Grafted onto aronia rootstock, to create a dwarf tree which will come into bearing two to three years earlier than a Shipova on a pear or quince rootstock and will grow to only 6-8' tall.

Site requirements: Full sun location. Like other fruit trees in the rose family, Shipova will do well in fertile, well drained soil. Soil pH of 6.5 is ideal.

Hardiness: USDA zones 4-9.

Plant size: Tree, 1-2' tall,  with strong central leader. Grown in a 4" x 9" tree pot.
When we ship: Fall 2023/Spring 2024.
Shipping restrictions: Cannot ship to Canada.