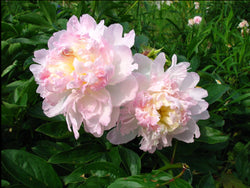 Cricket Hill Garden
Paeonia, 'Raspberry Sundae' herbaceous peony PICK UP
Notable characteristics: Mixed pink outer petals give way to interesting centers of narrow inner petals, interspersed with yellow and pinks. Gorgeous flowers contrast well with the dark jade green foliage. Plant height to about 30". Good stem strength, little or no support needed.

Cultivar group, hybridizer & year introduced: Charles Klehm, 1968.
Growth habit and size at maturity (10 years old): Upright, grows to 30"
Flower form and size: Double form, 6" and upward facing. Excellent variety for landscape planting or cut flowers. Described by the hybridizer, " Reminiscent of scoops of vanilla ice cream covered with raspberry topping dripping through the petals. Distinctive form and color with mild, sweet fragrance." 
Flower fragrance: Sweet scent.

Bloom time: Mid-season hybrid peony, blooms in our USDA zone 6a garden in the third week of May.
Zone hardiness: Proven in USDA zones 4-9.

Plant size: Field dug, bare root plant with 4-5 'eyes' or buds and proportional roots. This size plant is very robust and will most likely flower its first season.

POTTED PLANTS AVAILABLE FOR PICK UP AT THE NURSERY