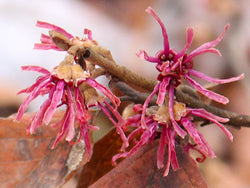 Cricket Hill Garden
Hamamelis, 'Amethyst' Witch Hazel
Hamamelis vernalis, '
Amethyst' Witch Hazel
Variety description: Lightly fragrant, reddish purple blossoms in mid winter. Grows to a rounded bush, 8'-10'. tall and wide with gray-green foliage that turns a brilliant red and orange in autumn.
Height and Spread at Maturity: 7-12' high and wide. 
Site requirements: Full sun or part shade location. Will prefers moist soil but will also grow well in drier locations. 
Hardiness: USDA zones 5-8.

Plant size: Grafted shrub, 18-24'', grown in a 4''x10'' tree tube.

When we ship: Available for FALL 2023.