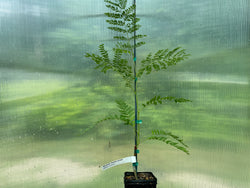 Cricket Hill Garden
Gleditsia triacanthos, 'Hershey' Thornless Honeylocust
Variety description: This grafted honey locust produces large pods with as few as 16 pods per pound. Pods are high in sugar content. Named after John W. Hershey who did much to research and advocate for the planting of perennial tree crops. Deer devour the pods from this tree and the pods can potentially be used for livestock fodder in silvopasture plantings. Pods drop in October to December. 
Height and Spread at Maturity: 80' tall and 50' wide
Site requirements: Best in full sun. It is very adaptable to both dry and moist locations, and not fussy about soil type.
Hardiness: USDA zones 4-9.

Plant size: Grafted tree, 18-24" with strong central leader.

When we ship: Available for FALL 2023 shipping.