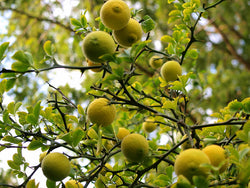 Cricket Hill Garden
Poncirus trifoliata, 'Flying Dragon' Hardy Citrus
Poncirus trifoliata

Variety description: Know as guo ju in Chinese, this is the most hardy citrus species. In China it is grown as an ornamental where its twisted branches and curved 1" thorns are said to resemble a dragon's claws. In the U.S., this citrus is widely used as a rootstock for commercial citrus plantings. It can also be used as a very menacing living fence.

Slow growing tree will reach 10' at maturity. Seedlings will flower in their 5-6th year. Early spring will bring a profusion of fragrant white blossoms.
Small, green and juicy, very sour fruit will ripen in the late summer.These fruits can be used just like a key lime. The seeds of Poncirus trifoliata are used in Traditional Chinese Medicine (TCM) as a remedy for allergic inflammation.

Site requirements: Full sun location. This hardy citrus will grow in a range of soil types provided the planting location is well drained. Soil pH of 5.5 to 6.5 is ideal.

Hardiness: USDA zones 6a-9.

Plant size: 2 yr. seedlings. 6-8" tall. .

Shipping restrictions: Cannot ship to CA, FL,GA, LA, MS, SC, TX, WV.