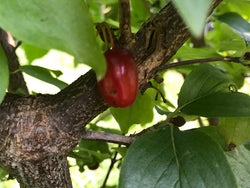 Cricket Hill Garden
Cornus, 'Red Dawn' Cornelian Cherry
Cornus mas 'Red Dawn'
This Ukrainian variety bears good crops of large, bright red fruit with a pleasing, sweet-tart flavor. 'Red Dawn' (known as Radost in Ukrainian) is a particularly easy to grow and disease resistant cultivar.
The fruit of this dogwood species has been enjoyed by humans for millennia. A particular favorite of the ancient Greeks, it was widely planted in medieval monastery gardens throughout Europe. Today, it is still grown commercially in Turkey.
Cherry-like fruits ripen in the late summer and early fall. Good for fresh eating as well as dried or made into preserves. Cornus mas is highly ornamental in the early spring, with the entire tree covered in a profusion of small yellow blossoms.
Size at maturity: 10-20' tall and and 7-8' wide.

Site Selection: Ideally full-sun location, but will also grow and fruit in dappled sun locations. Adaptable to a range or soil types provided the planting location is well drained. Prefers a pH of around 6.5.

Cultivation: Self-fertile trees require little attention once established. Cornus mas can be trained as a small standard tree or as a multi-stemmed shrub. For a mature tree it is only necessary to prune out dead, broken or crossed branches.

Zone hardiness, Pests, & Diseases: Hardy to USDA zone 5-7. Pest and disease free. Birds and critters will compete with humans for the harvest.

Plant size: 1' -2' tall

When we ship: Available for FALL 2023 shipping.