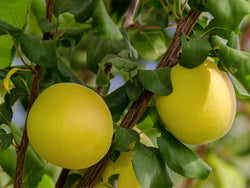 Cricket Hill Garden
Apricot hybrid, 'Shaa-Kar-Pareh'
Prunus ssp.

Variety description: An traditional variety from Iran, 'Shaa-kar-pareh' is a apricot x plum hybrid. Medium to large fruit, with yellow skin and white flesh. Exceptionally sweet with plum-like flavor. Self-fertile. 
The fruits are very disease and crack resistant, only moderately susceptible to brown rot.
Site requirements: Full sun location. Apricots will grow in a range of soil types provided the planting location is well drained. Soil pH of 6.0-7.0 is required.

Size at maturity: 12-15'.

Pests and diseases: Plum curculio never passes up a good apricot.

Hardiness: USDA zones 6-9.

Plant size:  Grafted tree, 2-3' with strong central leader. 

When we ship: Available for Spring 2021 shipping.