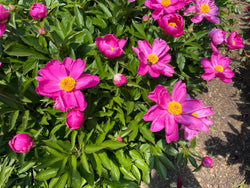 Cricket Hill Garden
Paeonia lactiflora, 'Fen Yu Nu' Chinese herbaceous peony
Paeonia lactiflora 'Fen Yu Nu' 粉玉奴
Notable characteristics: Dark purple-pink single blossoms are produced in profusion on this excellent landscape plant. No need to stake this peony. The bees love the single form flowers. Easy to grow.
Species: Paeonia lactiflora

Growth habit and size at maturity : Grows to 32" tall and wide.

Flower form and size: Perfect 5-6" upright blossoms 
Flower fragrance: Mild..

Bloom time: Mid-season herbaceous peony, blooms in our USDA zone 6a garden in the second week of June.

Zone hardiness: Proven in USDA zones 4-8.

Plant size: 4-5 'eyes' or buds with proportional roots.

When we ship: FALL 2023.