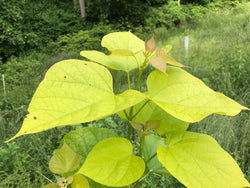 Cricket Hill Garden
Catalpa bignonioides, 'Aurea' Southern Catalpa
Variety description: This golden foliage form of southern catalpa displays excellent color from late spring well into the summer. Plant in full sun or part shade for best effect. 
This tree can be maintained as a 'cut-back' shrub, subjected to a hard pruning every spring. This will ensure that foliage is large and the effect of the golden foliage is more at eye level. Expect 10-15' of annual growth once the root system is established. Specimens maintained in such a way will require richer soil, or more frequent watering and fertilization than those allowed to grow into a full sized tree. 
If left to its own devices, this tree will grow into a majestic specimen, 20-30' tall with a  15-20' spread. 
Height and Spread at Maturity: Dependent on pruning. 

Site requirements: Full sun or part shade location. Prefers moist soils high in organic content, but will grow well in many soil types. 
Hardiness: USDA zones 5-9.

Plant size: Grafted tree, 2-3' with strong central leader.