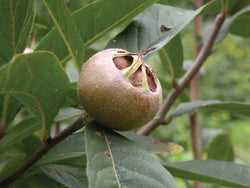 Cricket Hill Garden
Mespilus, 'Nottingham' medlar
Mespilus germanica

Variety description: 'Nottingham' is a small upright growing tree, with large, leathery leaves and cup-shaped white flowers in spring. This English cultivar is described by renowned horticulturist Lee Reich in Uncommon Fruits for Every Garden as "perhaps the oldest extant cultivar of medlar." The fruit has an excellent flavor when fully ripened or "bletted,' but the fruits are smaller than that of other medlars. 
Site requirements: Full sun location. Medlars will grow in a range of soil types provided the planting location is well drained. Soil pH of 6.5 is ideal. Will grow to 8-10'. 
Hardiness: USDA zones 4-9.

Plant size: Grafted tree, 24" with strong central leader.

When we ship: Fall 2023 / Spring 2024. 

Shipping restrictions: Cannot ship to Canada.