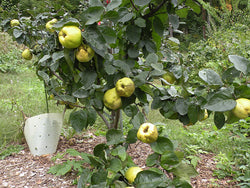 Cricket Hill Garden
Cydonia oblonga, 'Meech's Prolific' Quince
Cydonia oblonga

Variety description: For a description of the heirloom quince cultivar we quote from U.P. Hedrick's Cyclopedia of Hardy Fruits, published in 1922: " 'Meech' seems to have been in cultivation in Vineland, New Jersey, about the middle of the nineteenth century. It was not introduced until some years later, when, coming into the hands of Rev. W.W. Meech, it was disseminated in 1883. Tree very vigorous, hardy, productive and comparatively free from blight; comes in bearing early. Leaves large, broad in proportion to their length and luxuriantly green. Flowers very large and attractive. Fruit mid-season, very large, pear-shaped or obscurely pyriform, smooth or occasionally slightly ribbed; stem set obliquely in a slight depression; basin rather narrow, smooth or somewhat furrowed; color bright golden-yellow; very pubescent but becoming smooth at maturity; flesh yellowish-white, juicy, fine-grained, highly aromatic, tart; quality good."
Site requirements: Full sun location. Quince will grow in a range of soil types provided the planting location is well drained. Soil pH of 6.5 is ideal. Will grow to 12-15'.
Hardiness: USDA zones 4-9.

Plant size: Grafted tree, 24" with strong central leader. Grown in a 4" x 9" tree pot.
Shipping time:  FALL 2023. 

Shipping restrictions: Cannot ship to Canada.