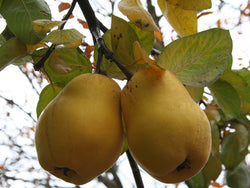 Cricket Hill Garden
Cydonia oblobga, 'Ekmek' Turkish Quince
Only a few trees available for SPRING 2023. Pre-order now! 
Cydonia oblonga 'Ekmek'

Variety description: 'Ekmek' is a Turkish cultivar of quince which produces juicy, yellow pear-shaped fruit with crisp flesh. Some find this 'Ekmek' quince, which means "bread" in Turkish, to be good enough to eat fresh right off the tree. Self-fertile variety, though yields are increased with the benefit of cross pollination form another variety of quince. This cultivar is rated highly by pomologists at the USDA for flavorful fruit and disease resistance.
Site requirements: Full sun location. Quince will grow in a range of soil types provided the planting location is well drained. Soil pH of 6.5 is ideal. Will grow to 12-15'.
Hardiness: USDA zones 4-9.

Plant size: Grafted tree, 18-24" with strong central leader. Grown in a 4" x 9" tree pot.

When we ship: FALL 2023

Shipping restrictions: Cannot ship to Canada.