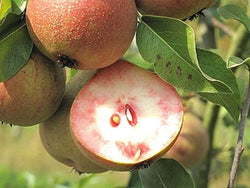 Cricket Hill Garden
Pear, 'Summer Blood Birne'
Pyrus communis

Variety description: A type of the rare red fleshed or "blood" pears, with larger fruit and more disease resistance than other red fleshed cultivars. An ancient cultivar thought to have originated in Germany. The fruit is still quite small, with a ­cinnamon-like flavor.
Site requirements: Full sun location. Pears will grow in a range of soil types provided the planting location is well drained. Soil pH of 6.5 is ideal.

Hardiness: USDA zones 5-9.

Plant size: Grafted tree, 2-3 FT, with strong central leader. 

Shipping restrictions: Cannot ship to Canada.