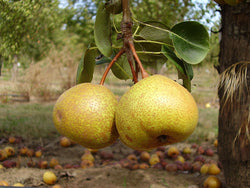 Cricket Hill Garden
Perry Pear, 'Gelbmostler'
Pyrus communis

Variety description (from The Book of Pears by Joan Morgan): Gelbmostler is an old perry pear, known since the 18th century in Austria and northern Switzerland. The fruit is medium to large, globular; greenish-yellow changing to light yellow, often slightly blushed, speckled with russet dots. Its flesh is yellowish-white, coarse-grained, juicy, astringent, and over-ripens quickly.
Site requirements: Full sun location. Pears will grow in a range of soil types provided the planting location is well drained. Soil pH of 6.5 is ideal.

Hardiness: USDA zones 5-9.

Plant size: Tree, 2-3' tall with strong central leader.

When we ship: Available for SPRING 2020 shipping. 

Shipping restrictions: Cannot ship to Canada.
Organically grown by Cricket Hill Garden, in compliance with CT NOFA Farmer's Pledge.