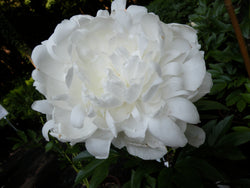 Cricket Hill Garden
Paeonia lactiflora, 'Elsa Sass' herbaceous peony PICK UP
Notable characteristics: Large full double form, pure white, velvet textured peony has exceptionally beautiful flowers. Compact plant is a generous bloomer. One of the last herbaceous peony cultivars to bloom in our garden. Look no further if you want to add a classical white, double blossomed, fragrant herbaceous peony to your garden.

Cultivar group, hybridizer & year introduced: P. lactiflora, Sass, 1930.
Growth habit and size at maturity: Short, compact habit, grows to 2.5' tall and 3' wide. Lustrous dark green foliage retains a good appearance throughout the summer.
Flower form and size: Double, hundred proliferate form, 6-7" in diameter.
Flower fragrance: Dense, sweet scent.

Bloom time: Mid-season hybrid peony, blooms in our USDA zone 6a garden in the last week of May or first week of June.
Zone hardiness: Proven in USDA zones 4-9.

POTTED PLANTS AVAILABLE FOR PICK UP AT THE NURSERY THIS SPRING