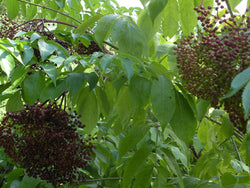 Cricket Hill Garden
Elderberry, 'Nova' American
Sambucus canadensis 'Nova'

Variety description: 
Fruit are large and sweet. Very vigorous growth. Introduced by the Nova Scotia Experiment Station in 1946. Open-pollinated seedling of 'Adams'. 

Site requirements: Elderberries grow best in a full sun location with fertile, moist soil. In the wild, they are often found on the margins of swamps and the edges of ponds. They are quite adaptable and will grow in poor, drier sites provided that the roots are well mulched.

Size at maturity: Multi-stemmed shrub reaches 6-12'.

Pollination: Partially self-fertile, though yields are increased with another cultivar of S. canadensis

Pests and diseases: No insects or diseases are of concern in the Northeast. Birds relish elderberries and will strip berry clusters clean if shrubs are not netted.

Hardiness: Will grow in USDA zones 3-9.

Plant size:  1 qt. pot well rooted plant, about 18" tall with a well developed root system. Will likely produce fruit the second season in the ground if given good care. 

When we ship:  FALL 2022. Ordering for this tree will open in late spring 2022. If you would like an email notification for when this tree is back in stock, please sign up with the button below.