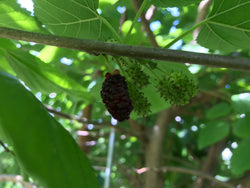 Cricket Hill Garden
Morus, 'Illinois Everbearing' mulberry
Only a few trees available for SPRING 2023. Pre-order now! 
Morus ssp. 'Illinois Everbearing'
Variety description: Large fruit are consistently ranked as having an excellent flavor. Nearly seedless fruit, mature over a long season; early July through August. Extremely hardy and productive. Thought to be a hybrid between Morus rubra and Morus alba.

Chance seedling discovered by Peter Glaser in White County, Illinois, on the bottom-lands of the Wabash River in 1947. Introduced in 1958 by the Burgess Seed and Plant Co., Galesburg, Michigan. 
Site requirements: Full sun location. Like other fruit trees, mulberries will do well in fertile, well drained soil. Soil pH of 6.5 is ideal.

Hardiness: USDA zones 5-9.

Size at maturity: With training when young and semi-annual pruning, mulberries can be maintained at 15-20'.

Plant size: Grafted tree, 2-3' tall with strong central leader.

When we ship:  Winter/Spring 2023. 

Shipping restrictions: None.