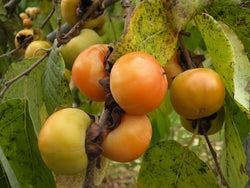 Cricket Hill Garden
Diospyros, 'Meader' American persimmon
Diospyros virginiana 'Meader'

Variety description: Sweet, deep orange fruit measure 1.5-2'. Early ripening, self-fertile variety. A good choice for landscape use as well, with the dark green foliage turning beautiful hues of red and yellow in the fall. Selected by the famous plant breeder and horticulturist Professor Elwyn Meader in Rochester, New Hampshire.

Site requirements: Persimmons grow best in a full sun location with fertile, well-drained soil. They are quite adaptable and will grow in poor, dry soils, though such conditions are far from ideal.

Size at maturity: With pruning, trees can be maintained at 15-20'.

Pests and diseases: None of concern.

Hardiness: Will grow in USDA zones 5-9.

Plant size: Grafted tree, about 1' tall with a well developed root system. Will likely produce fruit in 2-4 years if given good care. Grown in a 4" x 9" tree pot.
When we ship:  FALL 2023 / SPRING 2024. 

Shipping restrictions: Cannot ship to California.