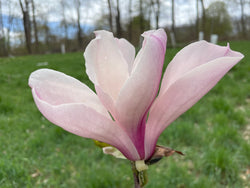 Cricket Hill Garden
Magnolia, 'Spring Peppermint'
Magnolia 'Spring Peppermint'
Variety description: Light lavender-pink buds open to flowers in a deeper shade of lavender with red stripes and veining. Fragrant blossoms cover the entire tree.
Height and Spread at Maturity: 20' tall and 15' wide

Site requirements: Full sun or part shade location. Will grow in a range of soil types provided the planting location is well drained. 
Hardiness: USDA zones 5-9.

Plant size: Grafted tree, 1-2' tall with strong central leader.

When we ship: Available for early Fall 2023 shipping.