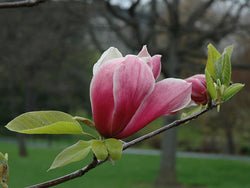 Cricket Hill Garden
Magnolia, 'Red Baron'
Magnolia x 'Red Baron' 
Variety description: Large rich rose-red blossoms with white interiors. Strong growing with an upright habit. Very hardy.
This cultivar was introduced by the legendary Wisconsin magnolia breeder Denis Ledvina. Read more about his work here.
Height and Spread at Maturity: 15-20' tall and 10-15' wide.

Site requirements: Full sun or part shade location. Will grow in a range of soil types provided the planting location is well drained. 
Hardiness: USDA zones 4b-9.

Plant size: Grafted tree, 1-2' tall with strong central leader.

When we ship: Available for early Fall 2023 shipping.