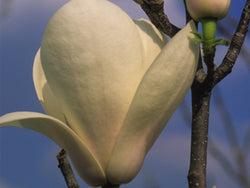 Cricket Hill Garden
Magnolia, 'Barrington Belle'
Magnolia 'Barrington Belle'
Variety description: Extremely fragrant, large 5-6" cupped shaped, strong textured white flowers are further enhanced by a subtle interior pink base. Flowers are freely produced from mid to late spring. Magnolia 'Barrington Belle' has an upright habit that becomes more spreading with age.
This excellent hybrid magnolia is from the breeding work of renowned American plantsman Professor Joe McDaniel, one of the founders of the American Magnolia Society.
Height and Spread at Maturity: 20' tall and 15' wide

Site requirements: Full sun or part shade location. Will grow in a range of soil types provided the planting location is well drained. 
Hardiness: USDA zones 5-9.

Plant size: Grafted tree, 1-2' tall with strong central leader.

When we ship: Available for Fall 2023 shipping.