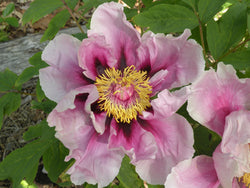 Cricket Hill Garden
Paeonia, 'Guardian of the Monastery' tree peony
 Sign up with the "Notify me when available" button to be emailed when this plant is available for purchase. 
Notable characteristics: Huge single petals are a pale blend of cream, pink, and lavender, with complimentary flares of dark purple at the center. The flowers are displayed perfectly over a spreading bush. The whole effect created is one of enticing lightness and airy pleasure. One of the most beautiful peonies from the famous Linwood Gardens in upstate New York. 

Cultivar group, hybridizer and year introduced: Rockii type, Gratwick, before 1960.
Growth habit and size at maturity (10 years old): To 4' tall and 3' wide.

Flower form and size: Single, 8-10". Flowers held above the foliage. 

Flower fragrance: Slight, floral. 

Bloom time: Mid-season tree peony, blooms in our USDA zone 6a garden in the third week of May.

Zone hardiness: Proven in USDA zones 4-9.

Plant size: 1 year old tree peonies have 1 woody stem, with offshoot buds, and a well developed root system. This one may bloom its first spring in the ground, or will wait until the second spring.