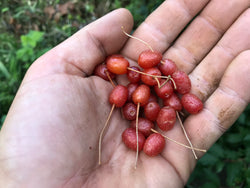 Cricket Hill Garden
Elaeagnus multiflora, 'Sweet Scarlet' Goumi
Elaeagnus multiflora 'Sweet Scarlet'

Variety description: Selected at the Main Botanic Garden in Kiev, Ukraine, 'Sweet Scarlet' is prized for its large, sweet, and tasty fruit
Native to the Russian Far East, China and Japan, Goumi is a very popular fruit in these regions. Goumi forms a medium size shrub growing to 6 ft in height with attractive, silvery green foliage. It's white flowers bloom in the middle to the end of May and are very fragrant and loved by bees making it a fantastic pollinator. The juicy, scarlet-red fruit is speckled with silver and ripens in July. Aromatic with a flavor reminiscent of pie cherries, it is very good eaten fresh and also makes tasty preserves.

Site requirements: Goumis grow best in a full sun to part shade location with fertile, moist soil. They are quite adaptable and will grow in poor, drier sites provided that the roots are well mulched.

Size at maturity: Multi-stemmed shrub reaches 5-6' tall and wide.

Pollination: Partially self-fertile, though yields are increased with another cultivar of Elaeagnus multiflora.

Pests and diseases: No insects or diseases are of concern in the Northeast. Birds relish the berries and will strip berry clusters clean if shrubs are not netted.

Hardiness: Will grow in USDA zones 4-9.

Plant size:  Well rooted plant, grown in a 4" x 9" tree pot, about 12" tall with a well developed root system. Will likely produce fruit the second season in the ground if given good care.

When we ship: FALL 2023/ SPRING 2024.