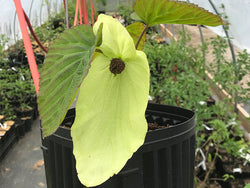 Cricket Hill Garden
Davidia involucrata, 'Sonoma' Dove Tree
Variety description: This precocious form of dove tree will begin blooming after 2-3 years as a grafted plant. Seed grown trees, as well as other grafted cultivars, take 10 or more years to reach mature, flowering age. White bracts of 'Sonoma' are also more abundant and larger than those on the straight species.
Discovered and introduced into the horticultural trade by Sonoma Nursery in northern California.
Height and Spread at Maturity: Pyramidal form, 20' tall and 10' wide.

Site requirements: Part shade location. Dove tree prefers well-drained soils, but will tolerate sandy or clay soil with adequate drainage
Hardiness: USDA zones 6b-9.
Plant size: Grafted tree, 12-24" with strong central leader.

When we ship:  FALL 2023.