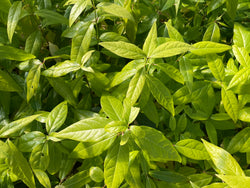 Cricket Hill Garden
Chimonanthus praecox, Wintersweet
Chimonanthus praecox
Variety description: This western Chinese native has been cultivated for centuries for its richly scented winter blooms. If you live in zone 7 or above, this is must for any gardener planting for all senses and seasons. Glossy green, lance shaped leaves emerge in spring. 
Size at maturity: 10' high and wide.
Pests and diseases: No insects or diseases are of concern. 

Hardiness: USDA zones 7-9. Perhaps ok in USDA zone 6b. Can be grown in a container on protected over the winter in colder areas. 

Plant size: 12-18" tall seedling. Field grown, ships bare root.

When we ship: Winter/Spring 2024