Nassos Daphnis and the Art of Tree Peonies
Among the hybrid tree peonies we most cherish are thoe cultivars bred by the Greek-American artist Nassos Daphnis (1914-2010). Daphnis' career was unique, he achieved great success in both the worlds of horticulture and fine art.
Nassos Daphnis (pictured above left) immigrated to the US as a teenager in the early 1930s, and found work in a relative's Manhattan florist shop. A budding artist, in 1938 he sold a painting to William Gratwick, who owned a large estate, 
Linwood Gardens
, in western New York. Gratwick grew a large number of tree peonies in his gardens and invited Daphnis to paint the peonies in bloom. The young artist had a reaction similar to many who see tree peonies for the first time: "suddenly my breath was taken by the incredible color of rows of tree peonies in full bloom."

Daphnis' artistic and horticultural pursuits were put on hold by World War II. He was drafted into the army, where is artistic talents were put to use painting camouflage on tanks during the Allied liberation of Italy.

Following his discharge from the army, Daphnis began his work of hybridizing tree peonies at Linwood Gardens, a project which would continue for the next 60 years.




Daphnis' tree peony breeding work drew on the experiences of Victor Lemoine in France and Arthur Saunders at Hamilton College . He created hybrid tree peonies by combining the genetics of the wild species tree peony, Paeonia lutea from southwestern China (shown above left) with large blossomed cultivars of Japanese tree peonies (above center). He was fortunate that Linwood Gardens had a superior collection of Japanese tree peonies. He selected pollen and seed parents with large blossoms, healthy foliage and good stem strength. Many of Daphnis' cultivars are simply stunning, exhibiting these desirable characteristics.

In selecting his seedlings as worthy of propagation Daphnis applied a set of principles which combined the idealistic aspirations of an artist with the more practical concerns of a horticulturist. In an article on Daphnis and his peonies, the Swiss peony expert Walter Good summarized this philosophy as follows:"Nassos Daphnis is of the opinion that creating beauty gives the greatest satisfaction to the breeder. This beauty, however, must harmonize with nature; only then it radiates calm and happiness and can fill the spectator with these feelings. A plant is only then really beautiful, if nothing impairs this calm and harmony. In this respect the breeder must consider his creation as a whole, i.e. as well as thinking of creating a beautiful flower, he must consider the whole plant, its growing habit, leaves and structure." By continuing to propagate these rare peonies at Cricket Hill Garden, we hope that in the future more gardeners will enjoy the fruits of Daphnis' keen eye and strict criteria for selecting tree peonies.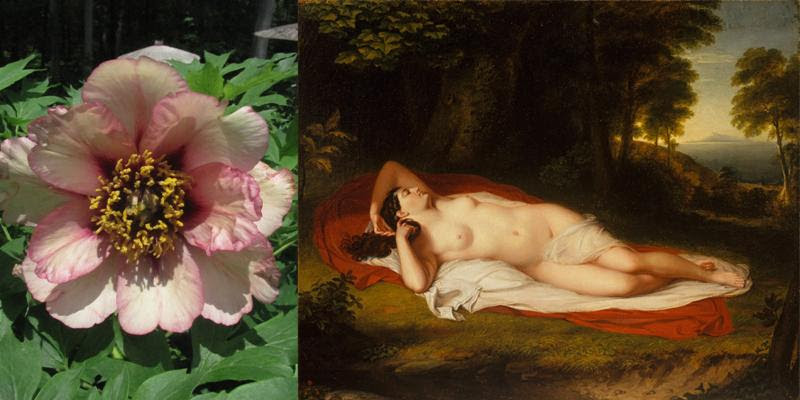 Daphnis paid homage to the gods, goddesses and mythic figures of ancient Greece in choosing names for many of his tree peonies. We find these names and the tales they conjure particularly fitting for tree peonies. A plant that, like protagonists from one of these long ago tales, bewitches all who gaze upon it. Shown above is Daphnis' tree peony 'Ariadne.' This plant was named for the daughter of the king Minos of Crete, shown above right in Asher Brown Durand's 1831 painting.


A few Daphnis tree peonies are named for artists whom he admired. We find these to be amongst his most stunning cultivars. With his keen eye for color, Daphnis saw that some of his tree peonies evoked the palette of great modernist painters. Take for example Paul Gauguin's Nave nave moe (Sacred spring, sweet dreams), 1894 (right) and Daphnis' tree peony 
'Gauguin.'
Daphnis enjoyed success and fame outside of the horticultural world. As a New York based painter and sculptor he became know for his bold 'hard edged' geometric designs. His 
obituary in The New York Times
 summed his worked as having "deployed brilliantly colored geometric forms in precise formal relationships to create nervous, dynamic paintings on a heroic scale." See selection of his works from the 
Richard Tattinger Gallery here
.