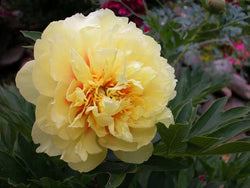 Cricket Hill Garden
Paeonia, 'Bartzella' intersectional 'Itoh' peony PICK UP
Notable characteristics: American Peony Society, Gold Medal winner, this plant is perhaps the best yellow peony of any type. Very strong grower. Intersectional peonies are also known as Itoh peonies and are crosses between tree and herbaceous peonies.
Deer resistant.
Hybridizer, year introduced: Roger Anderson, 1986.

Growth habit and size at maturity (10 years old): Upright and symmetrical, flowers held well above the foliage. Grows to 3' tall and 3' wide.

Flower form and size: Numerous heavy semi-double to double, 7-9".

Flower fragrance: Light and lemony.

Bloom time: Late season intersectional peony, blooms in our USDA zone 6a garden in the first or second week of June.

Zone hardiness: Proven in USDA zones 4-9.

Plant size:  Plants with 4-5 'eyes' or buds with proportional roots.