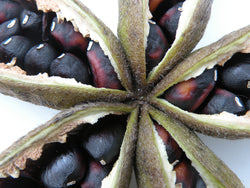 Cricket Hill Garden
Fresh, Viable Japanese Tree Peony Seeds
Stock is limited. For tips on starting tree peony seeds see our blog post

A selection of open pollinated seeds form our collection of Japanese tree peonies. Seed parent plants include cultivar such as 'The Sun,' 'White Goose of Shimane,' 'Joy of Longevity,' and 'Floral Rivalry.' Japanese tree peonies all tend to have semi-double blossoms in bright, clear colors. Peonies raised from seed do not come true to the parent plant, though they may strongly resemble it. These tree peony seeds are mixed colors and great for the experimental gardener. Tree peonies grown from seed will bloom in about 4-5 years, so this project does require some patience.
Seeds will be back in stock in September 2022.
We send (25) freshly harvested Japanese tree peony seeds for planting when they are ripe. We will send complete instructions for starting seeds and planting. Tree peony seeds will grow in USDA Zones 4-9.
A limited number of packets of seeds will be available. Once these sell out, that will be all until next year.
Offer good for a U.S. address only due to strict inspection requirements. Packing and mailing costs included in price.