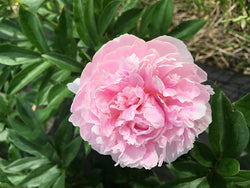 Cricket Hill Garden
Paeonia lactiflora, 'Sarah Bernhardt' heirloom herbaceous peony PICK UP
Notable characteristics: Very large double flowers of rose-pink with lighter edges. A few inner petals are edged in dark pink-red. Fragrant and vigorous with dark green foliage. A registered peony since 1906, by the famed French horticulturalist, Victor Lemoine. The remarkable three-generation, family nursery was located in Nancy and produced new varieties of peonies, lilacs, geraniums and other flowering plants from 1849-1968.

This peony is now grown worldwide as a cut flower. It performs very well in the cutting garden, but will need stem support as a display plant.

Sarah Bernhardt was the most famous stage actress of the Victorian era. Her career spanned decades, during which she was not only the muse of admiring horticulturalists, but also inspired the works of painters, bakers, and mixologists. 
Cultivar group, hybridizer and year introduced: Lactiflora, Lemoine, 1906. 
Growth habit and size at maturity (10 years old): 3' tall and 3' wide.

Flower form and size: Double, 6-8".

Flower fragrance: Sweet, rose scent.

Bloom time: Late season lactiflora herbaceous peony, blooms in our USDA zone 6a garden in the second week of June.

Zone hardiness: Proven in USDA zones 4-9.

Plant size:  Field dug, bare root plants have 4 to 5 "eyes" or buds 

AVAILABLE AS A POTTED PLANT AT THE NURSERY