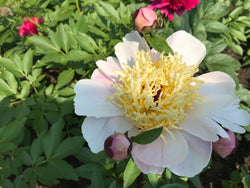 Cricket Hill Garden
Paeonia lactiflora, 'Painting with a Kingfisher Feather' Chinese herbaceous peony
Name in Chinese: Hui Cui 繪翠
Notable characteristics: Radient anemoen form double blossoms with stippled pink gaud petals and rather thick yellow stamenoids. Dark red stigma peaks out from the mass of stamenoids. Quite a striking blossom. Good fragrance.
We imported this gorgeous Chinese herbaceous peony over twenty years ago and have patiently built up stock to the point where we can now offer it for sale. 
Cultivar group, hybridizer and year introduced: Lactiflora, a classical cultivar from the peony growing center of Luoyang in Henan province. 

Growth habit and size at maturity: To 3' tall and and 3' wide. Does not require staking.

Flower form and size: 5-6" anemone double form blossoms.

Flower fragrance: Very sweet and spicy.

Bloom time: Mid-season herbaceous peony, blooms in our USDA zone 6a garden in the last week of May to early June.

Zone hardiness: Proven in USDA zones 3-8.

Plant size: 4-5 eye plant with a proportional root system. 

When we ship: FALL 2023.