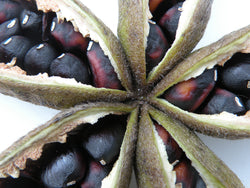 Cricket Hill Garden
Fresh Rockii Tree Peony Seeds, Paeonia rockii
For tips on starting tree peony seeds see our blog post

Open pollinated seeds collected from our collection of rockii Chinese tree peonies. Peonies raised from seed are variable, and won't be exactly like the parent plant, though they may strongly resemble it. We have raised many fine new plants from seed. These tree peony seeds are mixed colors and great for the experimental gardener. Tree peonies grown from seed will bloom in about 4-5 years, so this project does require some patience.
We will send complete instructions for starting seeds and planting. Tree peony seeds will grow in USDA Zones 4-9.
Freshly harvested seeds from fall 2023 are available for shipping now.
Shipping to U.S. address only.