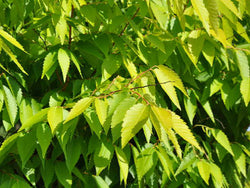 Cricket Hill Garden
Zelkova serrata, 'Ogon' Golden Japanese Zelkova
Variety description: This Japanese selection of zelkova offers multi-season interest with new growth that emerges brilliant yellow. By mid-summer the foliage is a somewhat more muted gold, but brightens in autumn before leaf drop. Winter interest is supplied with tightly angled orange-brown stems.
This cultivar is sometimes sold in the United States under the name 'Bright Park'. The original Japanese name, ogon, 黃金 means gold bullion.
Height and Spread at Maturity: 15-20' tall with a open, fan shaped crown
Site requirements: Full sun location. Will grow in a range of soil types provided the planting location is well drained. 
Hardiness: USDA zones 5-9.

Plant size: Grafted tree, 24" with strong central leader.

When we ship: SPRING 2023