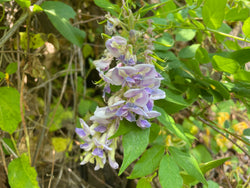 Cricket Hill Garden
Wisteria frutescens, Native wisteria
Wisteria frutescens
Variety description: Climbing, twining vine makes grows well on arbors, fences or sprawled along rocky outcroppings. Flowers in late may and early June. 
Size at maturity: Dependent on pruning. If left to its own devices, will climb to the top of a 40' tree.
Pests and diseases: No insects or diseases are of concern in the Northeast. 

Hardiness: Will grow in USDA zones 5-8.

Plant size: 2-3' well-rooted vine. Field grown, ships bare root.

When we ship: Winter/Spring 2024