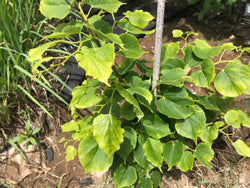 Cricket Hill Garden
Tilia cordata, 'Girard's Pendula Nana' dwarf weeping little leaf linden
Variety description:  A choice linden selection with dwarfed leaves 1/3 the size of the straight species along congested gold brushed stems. Plants develop a bonsai-esque framework with similar qualities to the slightly more well-known selection 'Lico'. 
Height and Spread at Maturity: 3-4' tall and wide
Site requirements: Best in full sun. It is very adaptable to both dry and moist locations, and not fussy about soil type.
Hardiness: USDA zones 4-9.

Plant size: Grafted tree, 18-24" with strong central leader. Grown in a 5" x 12" tree pot.

When we ship: Available for SPRING 2023 shipping.