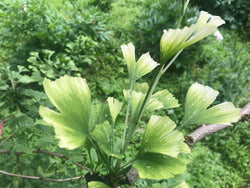 Cricket Hill Garden
Ginkgo biloba, 'Snow Cloud' variegated Ginkgo
Variety description: This aptly named tree puts on a spectacular spring and summer show with foliage that emerges a soft cream color with snow white edges to the leaves. By mid-summer the foliage will settle into a light green with varying degrees of white blotches and streaks. For best effect, site this tree in an area with light, high shade. The foliage will burn in the full sun, while deep shade will lessen the intensity of the variegation.
'Snow Cloud' forms an open branching somewhat irregularly shaped sculptural shrub.
This is a somewhat recent introduction, and its ultimate height and spread at maturity are thus unknown. That lack of chlorophyll in the leaves will restrain growth and it has been suggested that this tree will reach no more than 10' tall in ten years. This cultivar does not seem to revert to a non-variegated form.  
Height and Spread at Maturity: 10' tall and 6' spread. 

Site requirements: Part shade location. Prefers moist soils high in organic content, but will grow well in many soil types. 
Hardiness: USDA zones 4-9.

Plant size: Grafted tree, 8-12" with strong central leader. 

When we ship: FALL 2023.