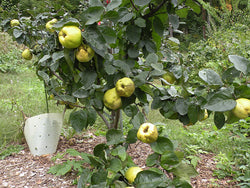 Cricket Hill Garden
Cydonia oblonga, 'Sekergevrek' Quince
Cydonia oblonga
Variety description: This Turkish quince cultivar comes highly rated by the pomologists at the USDA germplasm repository at Corvallis, Oregon. The name 'Sekergevrek' translates to "sweet and crispy." In warm climates, where the the growing season is long and summer hot, the ripe fruit is non-astringent and suitable for fresh eating. Ripens in October. The flesh is creamy lemon, very gritty, hard, slightly juicy, and slightly sweet. In Turkey the fruit is stored into mid-winter. 
Site requirements: Full sun location. Quince will grow in a range of soil types provided the planting location is well drained. Soil pH of 6.5 is ideal. Will grow to 12-15'.
Hardiness: USDA zones 4-9.

Plant size: 2' tall with strong central leader

When we ship:  FALL 2023. 

Shipping restrictions: Cannot ship to Canada.