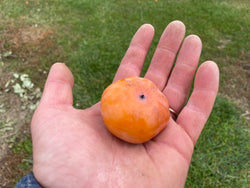 Cricket Hill Garden
Diospyros, '100-46' American persimmon
Diospyros virginiana

Variety description: This cultivar is one of the finest crosses to result form the American persimmon breeding work by Jerry Lehman of Terra Haute, Indiana. This early to mid-season ripening cultivar. Large fruit has a reddish orange blush and an excellent sweet flavor. Trees bear heavy crops. The pulp of the ripe fruit is recommended use in puddings, cookies and breads. Partially self-fertile female tree will produce seedless fruit without a male pollinator.

Site requirements: Persimmons grow best in a full sun location with fertile, well-drained soil. They are quite adaptable and will grow in poor, dry soils, though such sites are far from ideal.

Size at maturity: With pruning, trees can be maintained at 20-25'.

Pests and diseases: None of concern in the Northeast.

Hardiness: Will grow in USDA zones 5-9.

Plant size: Grafted tree, about 2' tall with a well developed root system.