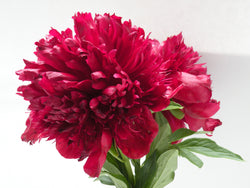 Cricket Hill Garden
Paeonia, 'Red Charm' hybrid herbaceous peony
Notable characteristics: Rich, true velvet red anemone double form blossoms,  with a spicy rose-clove fragrance.  American Peony Society Gold Medal 1956 winner, proven for more than 60 years to be an outstanding classic peony.

Cultivar group, hybridizer and year introduced: Hybrid (Paeonia officinalis x P. lactiflora) , Glassock, 1944.
Growth habit and size at maturity: Upright, grows to 2.5' tall and 3' wide. Very good stem strength.
Flower form and size: Anemone double, 5" and upward facing. Excellent variety for landscape planting or cut flowers.

Flower fragrance: Rose-clove spicy scent.
Bloom time: Early season hybrid peony, blooms in our USDA zone 6a garden in the third week of May
Zone hardiness: Proven in USDA zones 3-9.

Plant size: Field dug, bare root plants have 4-5 'eyes' with a well developed root system. This size plant will likely flower its first spring in the ground, though it may need another season. 

When we ship: Fall 2022.