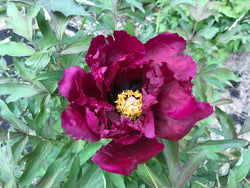 Cricket Hill Garden
Paeonia suffruticosa, Murad of Hershey Bar, American tree peony
Notable characteristics: Single deep red blossoms with small flares at the base of the petals. Early blooming. Vigorous and tall growing. This cultivar consistently blooms well from year to year. Foliage is quite dark when first emerging and retains a nice bronzed hue when in bloom.

Cultivar group, hybridizer and year introduced: P. suffruticosa introduced by William Gratwick of Pavillion, NY in 1986.

Growth habit and size at maturity (10 years old): Upright and slightly spreading habit, grows to 5' tall and 4' wide.

Flower form and size: Single blossoms are 6-7".

Flower fragrance: Spicy-sweet.

Bloom time: Early-season tree peony, blooms in our USDA zone 6a garden in the second week of May.

Zone hardiness: Proven in USDA zones 4-9.

Plant size: 1 year old tree peonies have 1 woody stems, with offshoot buds, and a well developed root system.
When we ship:  FALL 2023