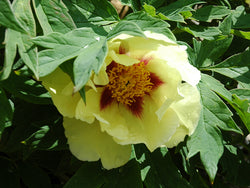 Cricket Hill Garden
Paeonia, 'L'Esperance' historic hybrid tree peony
Notable characteristics: Waved petals are light amber-yellow, with a spot of carmine at the base. The edges of the petals are tinted pink. A large tassel of golden stamens in the center. A very vigorous, compact plant, good for smaller gardens.
This is a beautiful, historic peony, with more than a hundred year history. 'L'Esperance' was one of the first yellow tree peonies to be bred in France by Victor Lemoine at his famous nursery in Lorraine. The second photo shows it in a formal setting at the UK National Trust's Hidcote Garden, in Gloucestershire. This tree peony was imported into Japan soon after it was introduced in France. There it is known as 金帝 or 'Golden Emperor.'
Cultivar group, hybridizer and year introduced: P. lutea hybrid, Lemoine, France 1909.
Growth habit and size at maturity (10 years old): Compact grower, to 2.5' tall and 3' wide.

Flower form and size: Elegant single blossoms, 8". 

Flower fragrance: Light, sweet, lemon scent. 

Bloom time: Late-season hybrid tree peony, blooms in our USDA zone 6a garden in very late May to June.

Zone hardiness: Proven in USDA zones 4-9.

Plant size: Mature 6 year old tree peonies have several woody stem, with offshoot buds, and a well developed root system.
3 yr. plants are smaller, about half the size of a six year old plant. 
When we ship:  FALL 2023