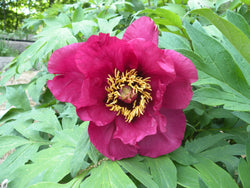 Cricket Hill Garden
Paeonia, 'Kronos' hybrid tree peony 6 yr. mature specimen plant
Notable characteristics: Dark crimson petals are symmetrically arranged in heavy, double flowers which bend slightly when in full bloom. A dramatic addition to any garden. Named after the Greek god of time. 
Cultivar group, hybridizer and year introduced: Lutea hybrid, Daphnis, 1978.
Growth habit and size at maturity (10 years old): Upright and slightly spreading, grows to 3' tall and 3' wide.

Flower form and size: Semi-double form blossoms, 6-7'' in diameter, upward and side facing.
Flower fragrance: Light, sweet, and slightly lemon.

Bloom time: Late-season hybrid tree peony, blooms in our USDA zone 6a garden in the first week of June.

Zone hardiness: Proven in USDA zones 4-9.

Plant size:  Mature 6 year old tree peonies have several woody stem, with offshoot buds, and a well developed root system.
3 yr. plants are smaller, about half the size of a six year old plant. 
When we ship:  FALL 2023