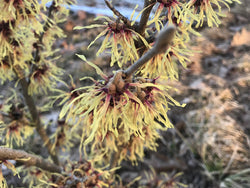 Cricket Hill Garden
Hamamelis x intermedia, 'Strawberries and Cream' Witch Hazel
Hamamelis x intermedia, 'Strawberries and Cream' Witch Hazel
Variety description: This fragrant hybrid witch hazel boasts flowers that are red at the base, fading to cream at the tips. Blooming mid to late winter.
Hybrid Intermediate witch hazels were created by the hybridization of Hamamelis japonica (native to Japan) and Hamamelis mollis (native to western China).
Height and Spread at Maturity: 7-12' high and wide. 

Site requirements: Full sun or part shade location. Will prefers moist soil but will also grow well in drier locations. 
Hardiness: USDA zones 5-8.

Plant size: Grated shrub, 18-24'', grown in a 4''x10'' tree tube.

When we ship: SPRING 2023.