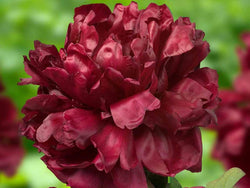 Cricket Hill Garden
Paeonia lactiflora, 'Francois Ortegat' Heirloom French herbaceous peony
Notable characteristics: French heirloom peony, grown for more than 170 years! Deep red, with purple-black tone, these double blossoms are very fragrant. The color is hard to capture in photography, depending on the light, the flower can look much brighter red in strong sunlight.
Excellent in the landscape or as a cut flower. Rarely offered for sale.

Species, hybridizer: Paeonia lactiflora, Parmentier, from 1850

Growth habit and size at maturity: Grows to 30" tall and wide.

Flower form and size: Full rose double.

Flower fragrance: Strong, sweet scent.

Bloom time: Mid to late season herbaceous peony, blooms in our USDA zone 6a garden in the second week of June.

Zone hardiness: Proven in USDA zones 4-8.

Plant size:  Field dug, bare root plants are sold out for spring. 

When we ship: FALL 2022