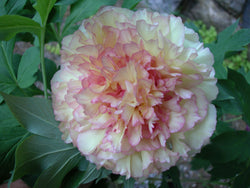 Cricket Hill Garden
Paeonia, 'Souvenir de Maxime Cornu' hybrid tree peony
 Sign up with the "Notify me when available" button to be emailed when this plant is available for purchase. 
Notable characteristics: Very large, slightly fragrant, double flowers have deep light yellow petals, edged in pink and buff. When the flowers first open they appear magenta tinged, but this fades as the flowers age and the orange and red tints intensify. Flowers are not well supported by stems. Best planted on a raised terrace where the blossoms can be appreciated from a lower vantage point.  Makes an excellent cut flower to float in a bowl. 

One of the first hybrid yellow tree peonies which has stood the test of time. This plant is the result of a cross between the wild species tree peony P. lutea and a cultivar of Chinese tree peony. 
Named after the Professor Maxime Cornu, director of the Jardin des Plantes, France's main botanical garden, who is said to have encouraged Louis Henry to persevere in the hybridization of peonies in the early 20th century. Prof. Cornu also once famously pronounced that tree peonies would never become popular garden plants. He must be somewhat chagrined that his namesake tree peony has been a garden classic in both Europe and the United States for over 100 years. 
This historic hybrid tree peony imported into Japan from France in the 1920s. It is still grown by nurseries there, where it is known as Kinkaku (金閣) or 'Golden Pavilion.' It is sometimes offered under the name Jin Ge, which is the Chinese pinyin romanization of its Japanese name. 
Cultivar group, hybridizer and year introduced: Lutea hybrid, Louis Henry, 1897 or 1907.
Growth habit and size at maturity (10 years old): Upright and spreading, grows to 4.5' tall and 3' wide. Makes a magnificent specimen in the garden. 

Flower form and size: Full double, 6-8".
Flower fragrance: Light, sweet, and slightly lemon.

Bloom time: Late-season hybrid tree peony, blooms in our USDA zone 6a garden in the first week of June.

Zone hardiness: Proven in USDA zones 4-9.

Plant size: 1 year old grafted tree peonies have 1 woody stem, with offshoot buds, and a graft root. The plant may or may not have some of its own roots already developed. This one may bloom its first spring in the ground, or will wait until the second spring.