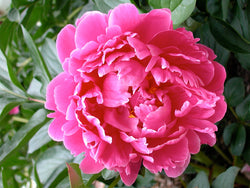 Cricket Hill Garden
Paeonia lactifora 'Cincinnati' herbaceous peony
Notable characteristics: Deep 'crabapple' pink double blossoms with a bit of silver edging on the tips of the petals. Some golden stamens show through the petals. A tall grower with strong stems, this plant an outstanding selection for both landscape plantings as well as the cutting garden.

Species, hybridizer: Paeonia lactiflora, Kreckler, 1962.

Growth habit and size at maturity : Grows to 30-36" tall and wide.

Flower form and size: Semi-double to full double, 8" upright blossoms borne on strong stems.
Flower fragrance: Strong, very sweet scent. 

Bloom time: Mid-season herbaceous peony, blooms in our USDA zone 6a garden in the first week of June.

Zone hardiness: Proven in USDA zones 4-8.

Plant size: 4-5 'eyes' or buds with proportional roots.

When we ship: Orders will ship FALL 2022