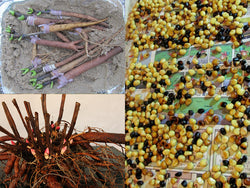 Cricket Hill Garden
A Peony Propagation Workshop, Saturday, September 2nd 2023 SOLD OUT
SOLD OUT FOR 2023. WE WILL HOLD ANOTHER WORKSHOP IN EARLY SEPTEMBER 2024. SIGN UP WILL OPEN IN JANUARY, 2024.
Date: September 2nd 2023 10am-12pm
Workshop Location: Cricket Hill Garden 670 Walnut Hill Rd. Thomaston, CT 06787
Have a beautiful peony in your garden and want to make more? Join Dan Furman of Cricket Hill Garden to lean how in a morning of hands on garden fun. All types of peony propagation (division, grafting and from seed) will be discussed, demonstrated and hopefully demystified. Participants will be be able to try their hands at grafting a tree peony as well as be able to take home assorted peony seeds to start in their own gardens.
Email dan@crickethillgarden.com with any questions